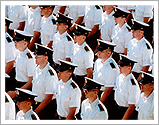 Operation Homelink Completes its Mission
Since delivering the first computer on Mother's Day, 2002, the generous donors, technology partners and numerous volunteers of Operation Homelink have all shared a passion to support our men and women who have bravely served our nation by distributing over 7,500 refurbished computers to wounded warriors, student vets and the families of servicemembers deployed overseas.
With the common proliferation of laptops, mobile devices and smartphones, today's military families are more readily able to communicate than when we started this mission almost 15 years ago. Having accomplished much of its desired mission, today our all-volunteer organization is announcing the discontinuation of our work of refurbishing and distributing computers to military families, wounded warriors and student veterans.
While we very much appreciate the opportunity to respectfully assist military families, we will always understand that our efforts were only a small token of appreciation for the many sacrifices made not only by those serving on the front lines…but also by the spouses, parents and children who proudly serve on the homefront. While we end this chapter in the history of Operation Homleink, we look forward to the opportunity to commence a new initiative to foster and expand veteran employment opportunities in the months and years ahead. More info to follow on this website.
While there are dozens of people to who contributed to OHL's efforts over the years, we wish to acknowledge several individuals and organizations without whose help Operation Homelink simply would have never existed:
Long Time Website, IT Volunteer & Passionate supporter of OHL for many years:
- Kyle Klimoski
Major Individual Donors:
- Mary Ann Shannon
- Michael Helmuth
Major Donor Organizations:
- Raytheon Company
- Levi Strauss & Co
- Dell
- Litl, Inc.
- Mayer, Brown & Platt
Founding Board Members:
- Chris Boudreaux
- Paula Dunn
- John Salmon
- Michael Kalachman
We would like to extend a special thank you to Alvin Katz (at the time with Mayer, Brown and Platt), Marc Kadish and others at MBP for graciously providing the substantial pro bono legal services that made our work possible.

Finally and most importantly, on behalf of all those who made Operation Homelink a reality, thanks to all the men and women who earned our support and respect the minute they signed up to protect our country from perils near and far. To every one of you that strapped on your boots to do the heavy lifting for 99% percent of Americans you served, those whom we can never repay the debt that you are owed...we say "Thank you".